During our "non-holidays," it is NOT necessary to make a deposit on your room.  But if you do not make a deposit, we will guarantee the room for you only until 5pm.  At which point if we have not heard from you by phone, email or text you will lose the guarantee on your room and it may be given to someone else.
WECHAT DEPOSIT
Scan the following code and pay your deposit
 Pay By ALIPAY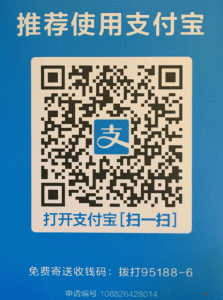 PAYPAL: Although paypal is convenient for most foreigners, it is not convenient for businesses in China. We prefer not to use this method of payment unless absolutely necessary.
BANK TRANSFER: Please ask for specific instructions